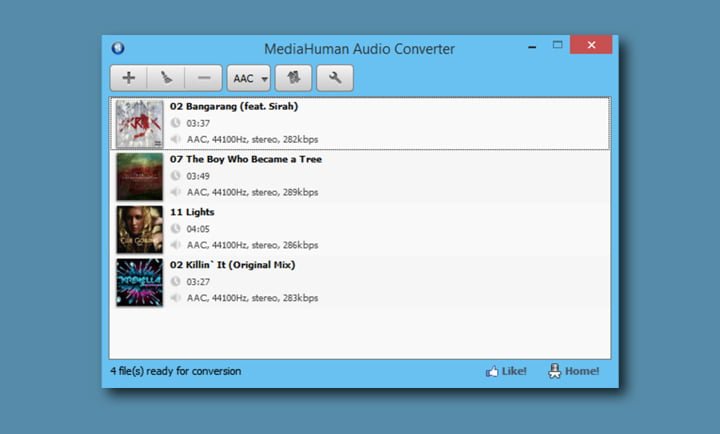 Millions of music files are circulating across the internet. If you are a music lover or someone who loves to play around with various audio file formats, you may need an audio converter.
While talking about audio converters, the mediahuman audio converter is excellent software. This intuitive audio converting application can meet all of your audio converting needs.
There are enough audio formats, just as there are various music files. MP3, AAC, WAV, FLAC, ALAC, and some other formats containing the digital audio data.
But, as they say, one man's trash is another man's treasure; one audio file that runs properly on your friend's computer might not run on yours. But should that stop you from using that audio file? No!
You can convert that audio file into a different audio format as a solution. For example, let's say, for some reason, the WAV format is not playing on your computer. Now, you can play that file after converting it into MP3 or any other format that runs on your computer.
You can indeed use the mediahuman audio converter. But is it good enough? Let's find that out in this article.
What Is Mediahuman Audio Converter?
Developed by Mediahuman Ltd, mediahuman audio converter is an audio conversion tool that lets users convert audio across various formats. It uses CUE to split lossless audio files from videos. The app also helps to convert video files into audio.
The Mediahuman mp3 converter can run on both Mac and Windows OS. You can convert almost all audio files starting from MP3, ACC, WMA, AIFF. You can convert any audio file from and into one of these formats. The batch conversion feature of the mediahuman audio converter lets you convert your MP3 in bulk.
Mediahuman Audio Converter Key Features
It has some interesting features. For example, you won't have to use any other app when using the mediahuman audio converter to convert your audio tracks.
Here are the features that mediahuman highlights-
Supports Numerous Audio Formats
You can convert various audio files into the format you need your file to be. Mediahuman supports more than 30 formats, including- MP3, OGG, AAC, M4A, WAV, WMA. It also includes lossless formats like FLAC, APE, ALAC, WavPack.
Simplified With Drag-And-Drop
The app is as simple as it is useful. The process of audio conversion is simplified through a drag-and-drop feature. It helps users easily grasp the use cases and improves the user experience.
Import Converted Files Into iTunes
Once you have converted a specific audio file to your desired format, mediahuman audio converter lets you import that audio file into your iTunes account or Music. app. So, if you are an iTunes user, you will love converting your video to the mediahuman music converter.
Retains Folder Structure
If you are converting a whole folder full of audio files, the chances are that the folder structure of your audio files may get changed. That may happen when you use other audio converting apps, not with the mediahuman audio converter. This is because while converting, the Mediahuman converter retains the file structure of your file.
Uses All Computer's Cores
The app offers you to convert audio files in bulk through batch mode. But running audio conversion through the batch mode will take better processing power. The mediahuman audio converter uses all the cores of a computer to speed up the process of audio conversion.
Uses CUE Sheet To Split Large Files
This audio converter can split the large audio files into separate audio files. Mediahuman converter does so by using the info available in the CUE sheet. So, if you want to split a combined audio file into separate songs, this app has that feature.
Automatic Search For Album Covers
You don't have to worry about your mp3 file not having the proper album cover. Mediahuman Converter will ensure that the album cover for your audio file remains the way you want.
ID3 Data Remains Unharmed
The ID3 data of an audio file contains the import info about that file. The information includes the artist's name, album name, track title, genre, release date, and such. Once you convert an audio file using a mediahuman converting app, the track info will not get erased in the process.
How To Use Mediahuman Audio Converter?
Here are the steps to use the mediahuman audio converter; you can use these steps in Mac and Windows.
Open the mediahuman audio converter app on your computer.
Drag the audio file you want to convert and drop it in the app dropbox.
Next, click on the audio file on the app.
Now click on format.
Now select the audio format you want to convert your audio into. For instance, MP3.
Choose a Bit per Second option, for instance, 320 kbps.
Now you need to click on the conversion button to complete the audio.
Mediahuman Audio Converter Review
This audio converter has everything you need to convert your audio file. Mediahuman is one of the best audio format converters. That is not just a personal recommendation. Many users have shared the same opinion.
Looking at the pros and cons of the Mediahuman audio converting app will help you make a clear judgment of the app. So, here are the pros and cons of the Mediahuman app.
Mediahuman Audio Converter Pros And Cons
Here are the pros and cons of this audio converting app-
Pros
Easy to use interface; the app is straightforward.
Lots of audio format options leave no boundaries of audio conversion.
Cons
You need to cross multiple steps to reach the destination folder.
Sometimes selecting a folder for conversion becomes harder.
FAQs
Here are some frequently asked questions. These questions will help you have any further questions about the mediahuman audio converting software.
Is A Mediahuman Audio Converter Safe?
Yes, it is completely safe to convert your audio file using the media human audio converter. The app offers various file formats, and it is free to use. Using the app doesn't make your computer vulnerable to virus attacks; So you can rest accrued.
Are There Any Mediahuman Audio Converter Alternatives?
Yes, these are. You can use any of the below alternatives if you are looking for the media human app alternative-

• Format factory.
• File converter.
• dBpoweramp
• Sound converter.
• Freemake audio converter.
Is Any Audio Converter Good?
Yes, they are excellent. There are a bunch of audio converters, Including Mediahuman audio converter. In addition, you can use any of the following converters.

• Format factory.
• Freemake audio converter
• Mediahuman converter. 
• File converter.
• dBpoweramp
• Sound converter.
Conclusion
Sometimes the process of converting an audio file on a mediahuman audio converter may seem a little lengthy. But, if you look at the bright side, the numerous supported audio formats are intriguing. Also, the app is free, so you can indeed use it.
More Resources: